It is widely believed that a natural gift or instinct for trading is one of the key
success factors on any exchange. However, it is misguided thinking. To make a
profit, you primarily need to learn to analyze the market situation. The skill of
reading the charts will allow you to make the right trading decisions and make
money.
There are two kinds of chart patterns in the cryptocurrency market: line charts
and Japanese candlestick charts. Here is some practical information on each of
them.
Line charts work fine for medium-term trading as you do not pay attention to the
minimum and maximum indicators. Such indicators are taken into account in the
Japanese candlestick charts.
Japanese candlestick charts are the most common way of displaying price charts.
Traders love them for their simplicity and clarity. Unlike line charts,
candlesticks are more useful for decision-making in trading. They allow you to
see the overall picture of the market and forecast price movements. So it is really
better for traders to analyze Japanese candlestick charts, although I think that
newcomers need to work with line charts. Even more so if you are going to make
long or medium-term investments.
Each chart has its own time frame, i.e. a period you can look through. In the
Japanese candlestick charts, the time frame is formed over a period of one hour,
one day, one week. Candlesticks are usually composed of the body (black or
white), and an upper and a lower shadow (wick). The body (rectangle) illustrates
the opening and closing trades. The wick illustrates the highest and lowest traded
prices of a security during the time interval represented.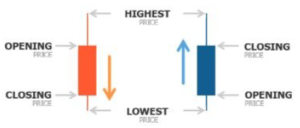 We can see the opening price and the closing price. These two positions are
usually marked with two colors. If the opening price is below the closing price, it
means growth and is marked with a different color on the chart. If everything is
vice versa, it that stock is falling.
It is a little more difficult to determine the time frame on a line chart. Usually, I
see how the situation changes point by point.
What time frame should you analyze? Personally, I do not analyse intraday
charts. The one-hour chart is the smallest one I work with. I mean the 1 hour +
daily chart. It's also a good idea to analyze the weekly and one-month charts as
the cryptocurrency market is quite young and you will be able to see the
previous minimum and maximum prices.
What should you pay attention to? In technical analysis, all people respond
equally to certain things. So every person who looks at the chart will equally see
and say: "It has dropped here but grown there. It has started here, but it's now
over there." Charts push people to act in a particular way, and they say: "Oh, the
maximum price has updated, so I will buy." And then I notice that people tend to
buy when they see round figures (for example, when the Ether reaches $400, or
Bitcoin breaks $5,000).
I also notice that all people react to recurrent events. If you have already reached
a peak, you hope you will break this peak again and go up even higher.
However, the market for real assets differs much from the cryptocurrency
market. The real assets market has its own algorithms and big players. There are
also big players in the cryptocurrency market, but this market is still very young
as it began to exist only in 2013. Yes, in 2013. Perhaps, some individual IT
specialists or traders started to get interested in the cryptocurrency market back
in 2011 or 2012, but speculators entered it only in 2013. Therefore, this market
is very young, and it has not faced any crisis yet. Despite this, the market is
continually updated, i.e. there are definitely certain cycles. Therefore, recurrent
events are double or triple peaks and, accordingly, double, triple floors. That is a
constant update of the minimum and maximum prices.
Market indicators also help to catch the mood of the cryptocurrency market.
Personally, I do not use them, but I highly recommend you use these tools.
In a volatile market, people somehow pay attention to the moving average.
What is it? As a rule, when you look at a chart, you have a median in your head
that divides the schedule in two, and you can immediately determine the average
price. This median halves the chart: everything above the line is expensive while
below means cheap.
Thus, for a daily chart, I sometimes use a 50-day moving average as well as a
200-day moving average. You can also apply a 20-day moving average.
However, I do not really need them as my eyes are trained enough to determine
the average.
The most important indicator to be used is the volume. It shows the number of
transactions for a certain period. If you use a candlestick chart, this indicator
shows a number of trades for one candlestick. The overall volume is shown, i.e.
how much was bought and how much was sold. Therefore, you can always
determine the liquidity, i.e. to understand how much you can buy in principle.
Thus, I believe that any movement of yours must be backed up by volume. If the
volume starts to grow, this is a good sign because it shows that more and more
participants coming to the market.
Therefore, any strong movement (hitting a new high or low) must be
accompanied by volume. Moreover, it must be accompanied with a volume
spike. It is from this point, as a rule, that all movements start and end. If you see
that the price of a coin is growing strongly, the volume is increasing, and a
volume spike begins, it is a good opportunity for making a profit.
Another situation: if you see that a movement begins to fall and the volume, on
the contrary, starts to increase, you'd better wait for the volume spike.
Now let's consider where you can follow the charts.
In fact, the difference between the Poloniex, Kraken, and Bitfinex exchanges is
extremely insignificant. For example, the currency price can be $245 on Kraken,
$248 on Poloniex, and $244 on Bitfinex. It seems there is a difference, but the
charts are actually completely correlated and very similar. Therefore, it does not
make much difference where exactly to follow them.
Let's now discuss when you should enter the trade.
You should enter the trade only with an eye on volume. The first reason is when
there is a range (when the price stays within a particular range and does not
move) + spike. You should buy when the price moves out of range and sell when
the price goes down. The second reason for entering a position is reaching a new
high and low (new high/new low + spike). And the last reason is the narrowing
and widening of volatility. This method is also called a triangle. It does not
matter what kind of triangle you have since the most important thing is a surge
and growth of volatility.
It looks like this on the chart.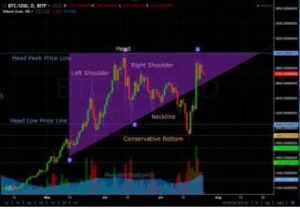 A volume spike confirms that this pattern will work indeed. And how is
volatility narrowing? It testifies to the fact that someone wants to close the
position.
I'm sure that you do not need to look for a lot of strategies to enter because the
ones I've described will be enough for you.
You should also grasp that the best opportunity for buying is the so-called retest.
There are different support and resistance levels.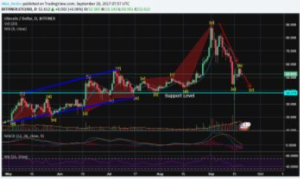 A retest is the safest entry (in terms of transaction risk) as you have a reason for
entering, a breakout, a confirmation no low will be reached and, finally, an exit.
If this is accompanied with volume, everything is just perfect. That is, there are
horizontal resistance and support lines and volume.
Now I want to give you my last tips.
Your entry should be put into writing. That is, you should define the clear
reasons for entering in your notebook. For example, I buy because: all major
currencies grow; my currency updates the maximum; my currency hits a round
figure; good news has appeared about my currency, etc. Every time you do
something, you have to take a pen, a sheet of paper, and write everything down.
If it is not written down, you can deceive yourself. After all, only written rules
will be obeyed.
Furthermore, do not confuse the technical entry (based on technical analysis and
charts) and the fundamental entry, which does not imply a clear exit. It is a bit
stretched in time and you exit only relying on the conditions of money
management (we will talk about this later). For example, you have decided never
to take more than 10% of loss in a position. That is your limit. However,
technical analysis implicates a specific entry point and a specific exit point.
Therefore, most beginners use technical analysis as it is simple enough to
determine the entry/exit points.