Now consider when Alice wants to pay $10 to Bob, but they bank at
different banks, albeit in the same country and currency. Alice instructs
her bank, Bank A, to remove $10 from her account and pay it to Bob's
account at Bank B. In banking jargon, Alice is the payer and Bob is the
beneficiary.
So Bank A reduces Alice's balance, and Bank B increases Bob's balance.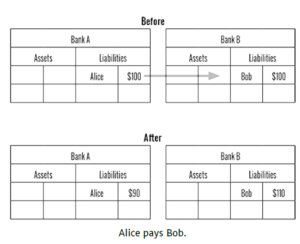 The Problem
While the customers are happy, can you see the problem from the
perspective of the banks?
Bank A now owes Alice $10 less than before and so it is better off, but
Bank B now owes Bob $10 more and so is worse off. So that can't be the
whole picture. Bank B would be furious!
The Solution
This payment instruction must be balanced by a bank to bank transfer:
Bank A needs to pay Bank B $10 to balance out the customer account
movements and complete the end to end payment.
How does an interbank payment happen? Bank A could put a bunch of
banknotes in a van and send them to Bank B. This would make both
banks square:
• Bank A owes Alice $10 less but pays $10 in banknotes to Bank B
• Bank B owes Bob $10 more but receives $10 in banknotes from Bank
A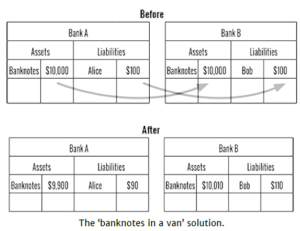 But in most countries, when banks want to transfer money to each other,
they don't put bundles of banknotes in vans—they pay each other
digitally.
The Digital Solutions
There are two main ways a bank can digitally pay another bank: by using
correspondent bank accounts; or by using a central bank payment
system.