CREATION AND HOW IT FUNCTIONS
One day, a Canadian programmer of Russian descent, Vitalik Buterin, reflected
on the imperfections of Bitcoin. He realized that using Bitcoin (and
cryptocurrency in general) for payment was only a small portion of its full
potential..
Realizing the advantage of Blockchain, which is not subject to change, he came
up with a new concept – smart contracts. Bearing in mind that it is possible to
store absolutely any information in such a network, Buterin decided to create his
own blockchain called Ethereum.
Ethereum's blockchain is similar to the Bitcoin blockchain except it can be used
for things other than just transactions.
One of the main advantages of Ethereum's blockchain is that each new block
generates in the network within only 15 seconds, not 10 minutes as in the case of
Bitcoin. However, in my opinion, another important advantage of Ethereum's
blockchain is that its creator is a real, live person. Vitalik Buterin is invested in
the future of his platform, visits various cryptocurrency conferences, shares
ideas, creates bank consortia, etc.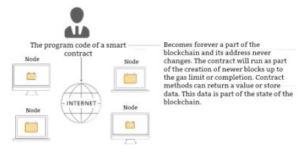 SMART CONTRACTS
Smart contracts can be created in Ethereum and solve a very important problem:
how to make a deal on the Internet when you do not trust another party. How
does it work?
A smart contract is a computerized transaction protocol that executes the terms
of a contract. It often happens that one of the signatories may interpret the
contract terms the way he likes it. Meanwhile, smart contracts are computer
protocols intended to facilitate, verify, or enforce the negotiation or performance
of a contract in an unbiased manner.
Thus, smart contracts allow for the regulation of people's relations on the
Internet by:
Providing computer-controlled monitoring and execution
of agreements
Reducing execution costs
Contributing to the creation of more trustworthy
relationships
Doing without a third party to perform the terms of the
contract
Having a mathematical formulation and clear logic of
execution
Requiring an environment that allows one to fully
automate the execution.
So let's think about where you can apply smart contracts. First, you can use them
to buy or sell shares in the stock exchange and participate in crowdfunding.
Nowadays, many companies have to pay more than $5 million for their shares to
be traded on NYSE or NASDAQ. These costs are incommensurably smaller if
using Blockchain, and they can theoretically be reduced even to zero.
It is also possible to hold a vote with the help of smart contracts to avoid ballot
stuffing, re-voting, and any errors in vote counting. Furthermore, the results can
be seen immediately.
The next thing you can do with smart contracts is to run an auction. Such
auctions will be fully transparent, and any person will be able to take part. No
kickbacks or corruption will be possible.
Smart contracts can even provide copyright and protect products against
counterfeiters.
You can also use smart contracts to keep various registries. For example, the
government of Sweden experimented with Blockchain to keep records of all land
plots, as well as their purchase and sale, back in 2016.
Smart contracts can also do good for affiliate programs, insurance, gambling and
lottery, transparent taxation, and much more. Almost all habitual interactions
with government agencies can take advantage of the benefits of smart contracts
using Ethereum's Blockchain.
As you can see, smart contracts offer a lot of opportunities, so this technology
has every chance to get even greater use in the future.
However, smart contracts do have some drawbacks, namely, the problem of
scaling. Bitcoin's Blockchain is limited. However, there are no restrictions in
Ethereum.
And finally, lots of people worry about the PoS Ethereum. For those out of step,
I can quickly explain that PoS Ethereum resembles Proof of Work in Bitcoin.
The transition from PoW to PoS is a significant milestone in the development of
the Ethereum network., and it is inadvisable from an economic point of view to
stay in PoW as it leads to high inflation over time.
Ethereum creator Vitalik Buterin has recently announced his intention to conduct
a survey on Ethereum's transition to partial Proof of work. The Ethereum's
mining rewards will be halved, but new opportunities to verify the transactions
will appear. A node that verifies transactions will have large quantities of Ether
(cryptocurrency). That is, a person must have a certain amount of Ether available
to be able to process transactions. Such a person is supposed to verify
transactions absolutely honestly as he/she is also a holder of Ether.
As you might understand already, PoS is a sort of central bank which holds a
large amount of currency. Therefore, Ethereum will partially turn from
decentralization of Ether to an oligopoly. There will be large "holders" who have
accumulated huge quantities of Ether and thus obtained the possibility to process
transactions. This will be their way of making a profit. Full transition to PoS is expected in early 2018. Since the power of the network
will immediately fall and the reward for the block will drop, I predict that some
members of cryptocurrency community will switch to another currency or even
leave the market. I predict only the most powerful Ether miners will stay on the
Ethereum's Blockchain.