All companies that launch ICOs are startups that do not even have a so-called
Minimum Viable Product (MVP). They have only an idea. Most of these startups
are increasingly showing signs of pyramid schemes, namely: you are assured
that if you invest money at the first stage your investments will be doubled
already at the second stage and will grow fourfold at the third stage. In other
words, investors are offered a sort of game, so that they get the impression of
being able to get rich quick.
Let's study how an ICO is conducted.
First, the companies run a so-called pre-ICO, the token sale event before the
official crowdsale or ICO campaign goes live. This event is typically held to
raise funds for marketing, particularly to pay for a PR campaign during the ICO.
In other words, it sounds like this: "We raise money for advertising to arrange an
even greater promotion later and collect money again."
In addition some ICOs have will stop to declare that a number (more) of funds is
needed for the actual project implementation, so the largest possible sum is
collected from the market. This is how sometimes people create a company with
a capitalization of billions of dollars.
IOTA currency is a bright example. It is a very scalable currency that can
support many transactions. To date, IOTA is valued at almost $2 billion. But
there is one catch. The company promises nothing and owns nothing (except for
the site of course). That is, by and large, people value the design of the
company's site at almost $2 billion! It's not a good investment, is it?
Using the example of the IOTA currency chart, you can see what all the latest
ICOs look like to date.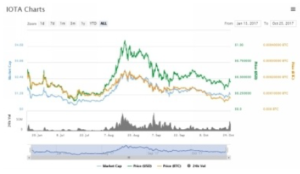 I admit that some ICOs zoom up in real value greatly, and those who have
managed to participate in them can really make a good profit. However, all such
ICOs still have the one and same fate, and it can be compared with an elevator:
when it is full, it cannot go up. So there is a huge amount of speculative money
in such ICOs; every price surge makes these people sell everything, close their
positions, and thereby exert pressure on the stocks.
By saying all of this, I do not intend to make you believe that all ICO projects
are deceptive. In fact, I just want to show you that most of these startups are very
overrated and only 2% -3% of them survive.
To profit from ICOs, you must, first and foremost, understand why you're
investing in it. So the reason for your transaction entry should be equal to the
reason for the exit. If you participate in an ICO simply because you believe in a
future product, then it is probably not the smartest decision. First, let the
company enter the market and start to trade. If you still believe in its product,
then you can always buy it, even at a discount, some time later.