The characteristics of a good ICO are as follows:
1. Chief executives and developers are public figures who have been
active on their social media accounts for quite a long period
2. A clear understanding of project tasks and objectives
3. Competitors in the market are making a profit
4. Support from community opinion leaders
5. Deliver speeches at cryptocurrency events
6. Good evaluations by experts and rating agencies
7. Distribution of money after ICO period
8. Open source code on GitHub
9. Related information is available on Bitcointalk, Reddit, Slack,
Twitter, Telegram, and YouTube.
When you have already chosen an ICO and decided to invest in it, now you
should constantly monitor the information this startup releases. The best way to
do this is to join their chat and follow the project on Twitter. Surf through their
Twitter archive. Do not forget that you gave them your money, so do not be
afraid of work and time spent on it.
You can keep track of ICOs on sites like smithandcrown.com, icoalert.com, аnd
icotracker.net.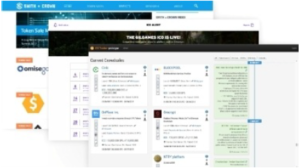 Now I will give you some tips on being wise when it comes to investing in
ICOs.
I recommend that you buy pre-bankruptcy ICOs and just keep them in case one
of them booms. To be frank, I have a separate list of all dropping ICOs, and I
keep track each of them every day. I am ready to buy them for some disposal
value. For example, 10% of the placing price. In this case, I will gladly make a
purchase, for example, at $1,000, and thus my risk will be the same $1,000.
The next tip: many people think that if the price starts to go down, it is a sign of
bankruptcy and you need to run away. And vice versa: if the price grows, you
need to buy. In fact, everything works the other way round. Falling market is
the best opportunity for identifying strong and weak coins and tokens. Track
whether the volume of coin increases when it falls. If it increases, that's good. If
the coin price drops and the volume does not increase, it means there is no
demand for these coins, and a seller constantly has to lower the price.
In addition, do not forget that, currently, 99% of all ICOs are a scam. However,
you may participate these ICOs too. You read right. You may do it to make a
profit on greedy and ill-informed people. In a certain way, this also proves that
ICO is a legal pyramid scheme, and your task is to enter it and leave it as soon as
possible.
HOW TO PARTICIPATE IN ICO
Suppose you found a good ICO. In order to participate in it, you need to visit its
site. Go to the Tokens tab and click on Get EOS.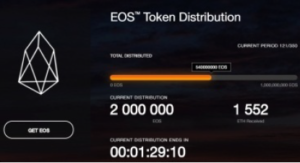 Afterwards, be sure to tick the box that says you agree to the terms of the
project. Read between the lines: you agree to possibly lose your capital. After
clicking Continue, you will be taken to the page which explains how the project
will raise funds.
I recommend that you carefully review all the figures, especially the ones about
capitalization. If the ICO capitalization is about $500 million, it's okay.
However, if you multiply the value of a token by the number of all tokens known
in advance and get the capitalization of $5 billion, this gives pause for thought.
You can also compare capitalization of the ICO you are interested in with a
previous ICO. When comparing, pay attention not to the value of one token but
to the capitalization of the whole company.
Study the Schedule section carefully to find out how long the ICO will last.
The ICO tokens you purchased appear very quickly on the hitbtc.com exchange.
Here you can also find tokens offered by ICOs.
In any case, if you fail to figure out how to participate in the ICO, the sites of
any ICO always publish detailed instructions (sometimes even a video). There
you will also find the information on how to transfer money to participate in the
ICO. But remember that this money can be transferred only from your wallet,
not from the exchange.
So that's how ICOs work and how I recommend you invest in them. No matter
what, remember this: Don't stay in one ICO for too long. Leave it as soon as you
can make a small profit.