Generally, you have to buy Bitcoin or Ethereum with your fiat money first. Then you can buy other Altcoins with Bitcoin or Ethereum.
There are two ways of buying Bitcoin – through an Exchange or Direct.
1. Exchanges
a. Fiat exchange
Cryptocurrency exchanges are websites which allow you to buy, sell and exchange cryptocurrencies for other digital currencies or fiat currencies like USD or Euro. Kraken is one of the largest. When I started I used Gemini.

The exchanges require you to open an account and verify your identification. Once you have exchanged fiat for Bitcoins, you can then either buy other coins, or in the case of Gemini, you have to then send your Bitcoins to Coin exchanges, like Poloniex, Bittrex or Coinbase (see below).
b. Coin Exchange
These are websites that connects buyers and sellers where they charge certain fees for a completed transaction.
i. Reputation
Before you start your exchange on your selected site, ensure you've gathered sufficient information regarding the site such as reviews from professional traders as well as well-known industry websites.
ii. Fees
Most exchanges will have fee-related information on their websites. Before joining any sites, ensure you have understood the exchange jargons: deposit, transaction and withdrawal fees. Fees may vary according to the exchange you choose.
iii. Payment Methods
Take note of the payment method available. Does the site use credit and debit card? Wire transfer? PayPal? If a particular exchange has very limited payment methods then it may not be convenient for you. Always remember that purchasing currencies via credit card will always require ID verification and it comes with a premium price to increase the security measures. Always check the fees for using credit or debit cards, as they can be very high.
Meanwhile, purchasing cryptocurrency via wire transfer will take longer as it takes time for banks to process.
iv. Verification Requirements
The majority of Bitcoin's trading platforms both in the US and the UK require a form of ID verification to make deposits and withdrawals. Some exchanges will also allow you to remain anonymous. Bear in mind that verifications may take several days but this is to protect exchanges from any sort of money laundering.
v. Exchange Rate
Do not be surprised that different exchanges offer different rates. Therefore, always remember to shop around and to not immediately settle on an exchange. This makes a big difference on your investment as cryptocurrency rates are known to fluctuate in value up to 10% and even higher in some circumstances.
As cryptocurrency is gaining more attention around the globe, there is a vast array of exchange platforms to choose from. But not all exchange platforms are created equal.
When I started I transferred GBP from my bank to a Fiat Exchange, like Gemini in USD, where I bought my Bitcoin.
From there I would transfer money to my Coin Exchanges, Poloniex and/or Bittrex.
So I decided to open an account with an Exchange that was present in Europe, Kraken. I could send my GBP direct in GBP to Kraken. I would then exchange my GBP for Bitcoin and then send it to either Poloniex or Bittrex. Recently Kraken stopped accepting GBP but people with Euros can still use it.
c. Examples of Coin Exchanges
i. Poloniex: this is the first one I ever used.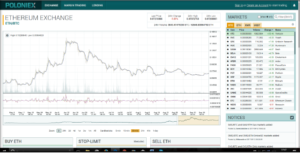 ii. Bittrex: this is the second one I opened.
Bittrex has one of the most numbers of coins to trade, that's why I like it so much. This is what Bittrex looks like once you have logged in: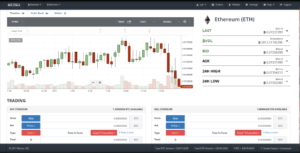 iii. Kraken: The third one I opened was Kraken.
It is one of the largest exchanges in Europe. Now that it no longer accepts GBP I don't find it as useful, however our Continental friends can still use it to send their Euros and purchase Bitcoin.
Since the selection of other coins are limited however, unless you are thinking of just holding Bitcoin, Ethereum and some of the other larger coins, you will probably be sending your money to exchanges such as Bittrex or Poloniex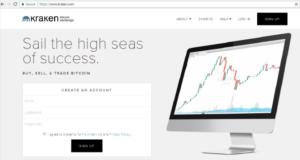 iv. Coinbase: this is the best known. No idea why I haven't used it but I haven't 🙂
Actually while writing this book I realised that I probably should open an account with Coinbase and have even made a video on how to open the account for the members of our Crypto Club.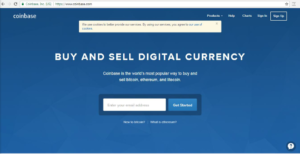 An important note: Opening these accounts is simple but it is not easy. We are at the beginning of a new technology here. Things are getting better but as a beginner it might seem very convoluted at first, some might say downright confusing.
This is a GOOD thing. It keeps the masses away while you and I get our positions. Once the doors open, everyone will want to get in. We will be in a great position once that happens. So be grateful that it is not easy to open an account, otherwise everyone would be doing it right now 🙂
2. Direct
One of our traders here used www.localbitcoins.com to exchange GBP into Bitcoin (BTC). "I found a seller selling BTC at a predetermined price, got myself verified as per their instructions. And then made a bank transfer to them. The BTC were held in escrow until payment was received. As soon as the payment has been confirmed the BTC are released. I then transferred my BTC from the site into an exchange."
For an idea of UK exchanges, check out www.bittybot.co/uk for a list of all UK Bitcoin exchanges and other exchanges which trade in British Pounds (GBP) ordered by ask price (lowest first).
As always, please do your own research and due diligence.