"Science-Fiction is now Science-fact"
– Unknown
At the end of 2016 I read that some cryptocurrencies had gone up by 5000% in just 12 months. I decided to do some research, fast. This is what I found: $100 worth of Bitcoins bought in 2010 would be worth well over $27 million today. How could I have missed out on those returns? It was time to get in.
A few weeks of research later and I had bought 15 different cryptocurrencies using speculation money. Most of the coins quickly went into profit, some substantially. I decided I needed to take this more seriously and really do some research. If not me then who? If not now then when? You have to be in the game to win it!
I paid several thousand dollars for the best crypto subscription service I could find, and started buying more and more cryptos based on their recommendations. I got obsessed – I was even listening to it while going running. At the time of writing, I now own more than 36 different cryptos and over 50+ positions, have banked some profits and am still up over 70% on my entire investments. Not a bad start.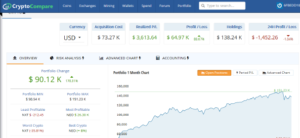 As you can see, I invested $73,000 and made a profit of $64,000 which is an 88% gain. This happened in as little as just 3 months. This was definitely helped by a fast growing Altcoin called NEO. I invested just $850 and turned that into $26,300 profit! I am not sure where else you can do that at the current time but it is possible with cryptocurrencies.