RISK CRYPTOASSET PRICES ARE
VOLATILE AND MANY HAVE FALLEN
TO ZERO. AT TIME OF WRITING,
DEADCOINS.COM241 LISTS OVER 800
COINS WHOSE PRICE HAS FALLEN TO
ZERO. I EXPECT THIS NUMBER TO
INCREASE. THE PRICE OF ANY
CRYPTOASSET CAN POTENTIALLY FALL
TO ZERO OR NEAR ZERO. THIS
SCENARIO MAY SEEM LESS LIKELY
FOR POPULAR CRYPTOCURRENCIES;
TIME, A SIGNIFICANT HACK, OR
EXPLOITED VULNERABILITY COULD
CAUSE A FATAL LOSS OF CONFIDENCE
IN THE ASSET AT ANY TIME.
Liquidity Risk Liquidity risk is the risk that
the market cannot support your transaction
at the price you expect. Liquidity comes and
goes, as with all markets. Less popular coins
are less liquid, meaning that a large buy or
sell can move the market against you more
than expected.
With less popular coins or coins of regulatory uncertainty, there is also a
risk that they are de-listed by exchanges, which reduces their liquidity.
For example, in May 2018, Poloniex announced that they were de-listing
seventeen tokens: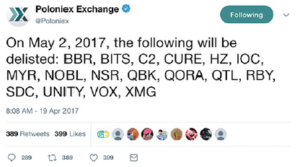 Exchange Risks It is convenient to keep
assets on exchanges because you don't have
to deal with private keys, and you can
quickly trade between assets. However
exchanges have had an extremely poor track
record of keeping customer assets secure.
Nearly all exchanges have been hacked in
the past. Michael Matthews published a
list242 of a selection of cryptocurrency
exchange hacks between 2012 and 2016: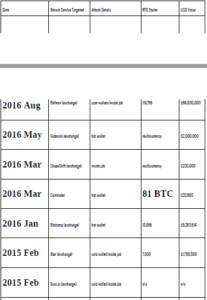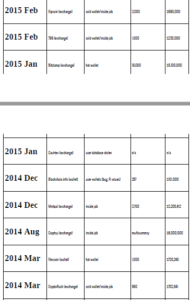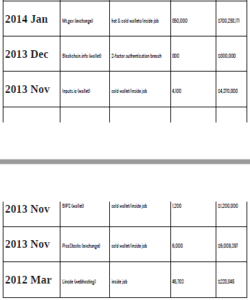 From this analysis, we can see not only that exchanges have been
successfully hacked by external parties, but it is not unknown for staff at
exchanges to steal cryptocurrencies from their customers.
On his website, Blockchain Graveyard243, Ryan McGeehan manages a list
of security breaches and thefts with their causes, based on public
information. The root cause analysis shows that there are multiple ways
for exchanges to be hacked: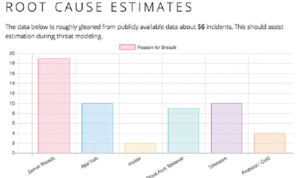 Being hacked is an existential threat to exchanges. So the top exchanges
take security extremely seriously. Nevertheless, prudence suggests that
you should use exchanges only when necessary, and to withdraw funds as
soon as possible after trading. Only keep as much on an exchange as you
are willing to lose.
Exchanges and users of exchanges may also engage in illegal or unethical
activity. Tricks, borrowed from the wholesale financial markets industry,
include: • Painting the tape: Artificially increasing trading activity by
having parties controlled by the exchange repeatedly trade with each
other. This 'fake volume' encourages other customers to trade.
• Spoofing: Submitting orders with the intention of cancelling them
before they are matched. This trick can be used to drive prices up or
down.
• Front-running: An exchange can see a customer order and use the
information to trade before the customer's order is accepted.
• Running stops: A certain type of customer order, called a 'stop loss,'
is not visible to other customers of the exchange but is visible to the
exchange. Insiders who can see customer stop loss orders can use
this information to trade against their own customers. This is a
popular trick in FX markets.
• Fake liquidity: Exchanges can publish 'unfillable' orders that
disappear, or only partially fill, when a customer tries to match
them. This makes it look like there is more liquidity on the exchange
than there actually is.
There are many other tricks that may be used either by exchanges or by
customers of exchanges while the management of the exchange looks the
other way. Different exchanges behave with different levels of
professionalism. Many exchanges are dodgy. Do your own research!
Wallet Risks With wallets, there is a tradeoff
between security and convenience.
Wallets that run online on computers or
smartphones are convenient because it is
easy to make cryptocurrency payments.
However, storing private keys on a device
exposed to the internet is not advised. Some
people keep a small amount of
cryptocurrency on their phone wallet so they
can make payments instantly, but the
advice, again, is to keep only as much in
them as you are willing to lose244.
In the past, it was common for people to print private keys onto bits of
paper, a technique known as cold storage, discussed previously, but this
is troublesome for making payments. Now, hardware wallets are the best
compromise between security and convenience. But the risk remains with
any wallet type that the software contains bugs or vulnerabilities that can
be exploited. Many wallets open source their code to allow developers
and security professionals to understand exactly how the wallet works,
and to take comfort that there are no weaknesses, but this also provides
transparency to hackers.
Regulatory Risks Regulation around
cryptocurrencies and tokens is evolving. It is
worth understanding as fully as possible the
nature of the assets you are considering.
ICOs are operating in a legal grey area in
many jurisdictions, and there is a risk that
some are deemed to have been illegally
performing regulated activities.
Depending on the jurisdiction and classification of cryptoassets, and what
you are doing with them, tax also needs to be considered. You are not
excused from complying with tax regulations just because the assets are
recorded on blockchains!