Consider the important factors that influence the price of cryptocurrency.
Obviously, the first factor is the real benefit of using a particular currency. The
second one is the belief in the growth of an ecosystem of this coin. The third
factor is the belief in the growth of the cryptocurrency ecosystem as a whole, i.e.
the belief that most businesses will want to use the cryptocurrency system. The
last factors of pricing are the extra charges for the deficit and future profit as
well as the risk discount.
Also, it happens quite often that various speculations and demand for a coin raise
its price in disproportion to its intrinsic value. The most important thing here is
to find out the percentage ratio between a soap bubble and something really
efficient. There is no exact algorithm for calculating this ratio. Therefore,
everyone solves this task relying only on own views.
I will give an example. If you want to find out what the total worth of
McDonald's is, you simply enter this query into the Google search engine and
any resource will give you the same information. However, it won't fly with
cryptocurrency. The cryptocurrency exchanges are local, and cryptocurrency
trading resembles the Forex market. In other words, it is an over-the-counter
market. There is no central market where you can track the value of a certain
currency. As a rule, members of the cryptocurrency community view prices at
different sites, which vary in regional terms, and the price gap may reach ten to
twenty percent.
Cryptocurrency is also open-source, so everyone can make sure of how they
work on the GIT HUB site, the most popular resource that unites all open-source
developers.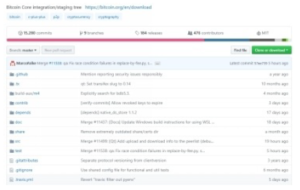 To choose cryptocurrency, I recommend using cryptocompare.com. It is an
aggregator showing cryptocurrency prices on different cryptocurrency
exchanges. Here you may read about each currency and view its current rate to
another currency, including the US dollar.
Another useful site is coinmarketcap.com. It is convenient for watching the latest
data on the top 10 best cryptocurrencies. But remember that this top ten is
constantly changing.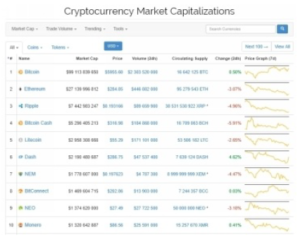 The name of the currency can be seen in the first column (Name). The second
column (Market Cap) shows capitalization of the currency. How is it calculated?
It is very simple. The amount of currency that is circulating in the market now
(Circulating Supply) is multiplied by the price (Pricе).
If you click, for example, on Bitcoin, you can see the charts of this currency
(Charts).