People dealing with cryptocurrency use a wallet as a safe depository and an
instrument for incoming and outgoing payments. Let's analyze the available
types of wallets and choose the most suitable one based on your computer's
resources and tasks.
There are hot and cold wallets. There are also warm wallets, but they are used
much less often. Cold wallets are used to store money, while hot wallets are used
to send and receive the currency quickly.
As a rule, a wallet has a Private key and a Public key. The Private key belongs
only to you, and you should never show it to anyone. You must keep it in mind
as you sign all transactions with this key. At the same time, someone can use
public keys to transfer money to your account, for example, for a new Ferrari car
. In such a case, you should give this person your public key. This key can even
be published on social networks. There is nothing to worry about here.

I suggest looking through the types of wallets on bitcoin.org.

Bitcoin Сore will be the very first wallet to consider. It is the original Bitcoin
wallet from the legendary Bitcoin creator Satoshi Nakamoto. It is the only
officially supported wallet which is constantly updated by the professional
Bitcoin community and stores the entire Bitcoin database on your computer,
automatically supporting the network. Bitcoin Сore is highly secure and userfriendly.
However, I do not recommend installing this wallet on your computer.
The first synchronization takes a very long time, and the size of a fully
synchronized wallet reaches 100 GB, which is a significant drawback.
I consider Blockchain to be the ideal wallet for users, especially lazy ones. It
does not require the installation of third-party applications on the computer. It
allows you to create a Bitcoin wallet within seconds and use it immediately. This
wallet guarantees a high level of safety for your Bitcoin, enjoys an impeccable
reputation, and offers 24/7 support. The interface is simple and intuitive, even
for beginners. The theoretical disadvantage lies only in the fact that your Bitcoin
wallet is located on a third-party resource, not on your computer.
MyEtherWallet is another kind of good wallet. It is the most popular wallet for
participation in ICOs (Initial Coin Offering). We'll go through ICOs later in the
book, but for now, it's only important to know that it's very similar to an IPO.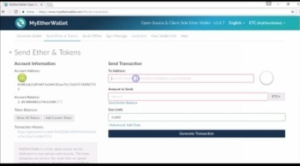 It is simple enough in use: we choose the address of a person whom we want to
transfer money to, indicate the sum, and transfer it. This wallet is called "warm"
because it contains a file you need to download to your computer and only then
enter a login for your wallet.
We have examined only several types of wallets for Bitcoin and Ethereum, but
there are quite a lot of them for other cryptocurrencies.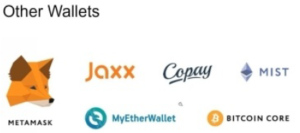 I would like to mention that you can use several wallets simultaneously: for
storing money, making transactions, for one-time use only.
For example, you can store Ethereum and all ICO tokens related to it on the
MyEtherWallet wallet. I also recommend using the Mist wallet when dealing
with Ethereum, though it takes much time to download it to a computer. There
are also multi-currency wallets that support several cryptocurrencies such as
Metamask and Jaxx.