Whitepapers
According to Wikipedia223, a white paper is an authoritative report or
policy paper. The term was originally used by the British government and
the earliest well-known example was a 1922 paper commissioned by
Prime Minister Winston Churchill, entitled 'Palestine. Correspondence
with the Palestine Arab Delegation and the Zionist Organisation'. As we
will see, the term whitepaper is now no longer exclusively used for these
types of documents.
Bitcoin's ideas were documented in a whitepaper by Satoshi Nakamoto224.
Ethereum was initially described in a whitepaper225 written by Vitalik
Buterin, followed by a technical yellow paper226 written by Dr Gavin
Wood. Since then, most ICO projects have included a whitepaper, though
over time the whitepapers seem to have become less technical and have
become a combination of a marketing document and investor prospectus.
Today's ICO whitepapers usually describe commercial, technical, and
financial details of the project, including:
• The goal of the project, including the current problem and proposed
solution
• Milestones for the development of the product or service
• The project team's background and experience
• The expected total fundraise value
• How the funds will be managed and spent
• The purpose and use of the tokens
• The initial and ongoing distribution of the tokens
You can see some examples of ICO whitepapers on
whitepaperdatabase.com, though it should be noted that inclusion in that
website doesn't mean legitimacy of the project. You have been warned!
The Token Sale
Although ICOs operate differently, there seem to be two routes emerging
for the token sale. A conservative route may be taken by projects whose
tokens have a chance of being classified as securities in relevant
jurisdictions, and another route is used by projects who are confident that
their tokens are not likely to fall under securities regulations.
Those projects whose tokens may fall under securities regulations behave
as if they are fundraising in a traditional way. This means that they may
not widely advertise their offering, and they may only offer tokens to rich
people or those with experience in complex and higher risk financial
instruments. In the USA, these investors are called 'accredited investors'
and other jurisdictions use 'sophisticated investors' or similar
terminology227. Individual accredited investors are self-declared, and the
criteria are usually based on some combination of net worth, annual
income, and experience in complex financial instruments. The country of
residence or citizenship of the investor is sometimes relevant, and some
ICOs will not sell tokens to American citizens, or people living in certain
countries. These ICOs will have private sales but no public sales or presales,
at least until the project has delivered a useful product and the
tokens could be re-defined as utility tokens.
Those projects who sell tokens that are likely to be classified as nonsecurities
have more freedom to sell their tokens to a global audience and
will usually engage in a private sale, one or more pre-sales, and a public
sale.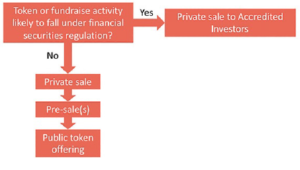 Usually projects offer discounts or bonuses to encourage investors to
invest, with more attractive deals for those participating in earlier
rounds. This can be achieved by creating limited investment
opportunities, either based on time, where the price gets worse over time,
or based on amount raised, where the price gets worse as the amount
raised increases. For example, in Ethereum's initial crowdsale, early
investors received 2000 ETH per 1 BTC whereas later investors received
only 1337 ETH per 1 BTC. Today, it is not uncommon for early investors
to get up to an 80% discount on the intended public sale price.
This has similarities to funding rounds for startup companies, though the
time scales and investor demands are different. ICOs can go from the first
funding round to having their tokens listed on a cryptocurrency exchange
funding round to having their tokens listed on a cryptocurrency exchange
in a matter of months with no product or commercial traction, whereas a
traditional startup would usually take years between angel investment
and IPO, and investors require demonstrable commercial success or
potential.